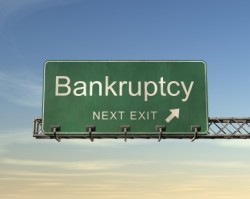 The number of UK citizens declared insolvent is lower than it has been for ten years, according to figures released by the Insolvency Service.
18,866 people were declared insolvent during the second quarter of this year in England and Wales, 29.3 per cent less than during the same period in 2014 and the lowest figure since July to September 2005, nearly ten years previously.
The Insolvency Service also reported that the number of companies going bankrupt is at its lowest rate for over seven years. A total of 3,908 businesses failed between April and June of this year, the smallest number since the last quarter of 2007.
Financial experts declared that the drop in insolvency figures is due to the strengthening economy and recent real term increases in salaries.
Philip Sykes, president of insolvency trade body, R3, said that now that wages are rising faster than inflation once more, people are in a better position to pay off their debts without having to declare themselves insolvent.
The drop in personal insolvencies has been welcomed by the organisation that runs the National Debtline, the Money Advice Trust, MAT. However, it expressed concern that the recent cuts to tax credits will push some households further into debt, forcing them to turn to expensive credit providers to boost their budgets.
The number of people borrowing a mortgage to buy a home rose during June, when 66,582 new mortgages were taken out, just 1,469 fewer than in April, the most recent peak month.
Lending to businesses fell, however, by as much as £5.5 billion, raising serious concerns about economic investment, according to Howard Archer, chief economist at IHS Global Insight.
The Office for Budget Responsibility has predicted that household debt will increase to 169 per cent of household income within the next five years.