It's 1966. Families nationwide crowd around tiny television sets to watch Bobby Moore lift the World Cup for England at Wembley.
James Callaghan, Chancellor of the Exchequer, declares his intention to shift to decimalisation of the pound in five years' time. Beatlemania is in full swing, and the song 'Taxman' on their latest album Revolver complains of high marginal rates of up to 95%.
British MPs debate the prospect of joining the European Union (then known as the European Economic Committee), approximately 50 years before debating an eventual exit.
Personal finances were also remarkably different compared with those of today. The average weekly wage, usually paid in cash on a Friday, was between £20–£27 whilst the average house price was around £3,620. It was a different world, financially and otherwise.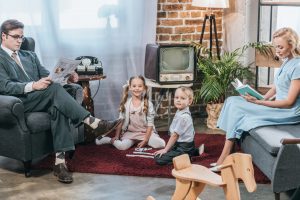 Changing attitudes and added complication
The way people approached their weekly budget was remarkably different, particularly the propensity to save which was far greater than today's standards. Back in 1966, common practice was to keep a weekly or monthly ledger that showed exactly how much spending was going out against your total income.
The concept of being able to check a bank statement in the palm of your hand was inconceivable. And in a world without ATMs and online banking, a ledger was absolutely essential to tot up your total outgoings. In many ways this made the general public of 50 years ago far more frugal with their spending.
Now that we have the ability to check our bank balance at a moment's notice, the need to meticulously run through your family budget each week, or even withdraw a precise amount of money for the week ahead, has certainly lessened.
Tending more to spend
On the whole, today's generation have become more cavalier with their weekly expenditure. This uplift in spending is also due to the massive development of products and services that we've experienced in the latter 20th century. Thousands of new household 'essentials' have been introduced to the masses in that time – colour TV, fridge freezers, vacuum cleaners, broadband, the list goes on.
Saving has given way to spending because we have so many more options and incentives to consider, coupled with our ability to pay for anything with a piece of plastic. Personal finance was a different ball game back in 1966, and perhaps we can even learn something from the way things used to be.
Evolution Money is a non-LTV lender offering secured loans from £1,000 – £20,000 to clients with zero or restricted equity and mortgage arrears. Read more about our loan service and how we can help you today.