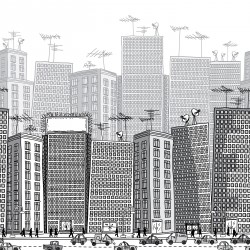 Economic growth in the UK rose by 0.7 per cent during the second quarter of 2015, official figures from the Office for National Statistics (ONS) show.
The rise is, in part, due to a sharp increase in gas and oil production and this is the tenth consecutive quarter that has seen the economy grow.
Living standards are also returning to their pre-economic crisis levels, according to the ONS, with the GDP now 'broadly in line' with its level in 2008, just before the UK economy went into recession. GDP per capita refers to the growth of the economy when shared out per person.
Oil and gas extraction increased by 7.8 per cent, its steepest rise since 1989. Tax cuts brought in in March to support the oil and gas industry are responsible for the surge in production, which came despite falling fuel prices.
Whilst the construction industry failed to show any sign of growth, remaining static, the service sector grew by 0.7 per cent, up from 0.3 per cent in the previous quarter. Manufacturing fell by 0.3 per cent
Chief economist at Capital Economics, Vicky Redwood, said that whilst growth is admittedly very uneven, it does look as if production is finally beginning to pick up across the UK.
This latest improvement in economic growth is likely to fuel speculation that Mark Carney, Governor of the Bank of England, will increase interest rates before the end of the year, the first rate rise since before the economic crisis of 2008.
According to Andrew Sentance, former member of the Bank's Monetary Policy Committee which is tasked with setting interest rates, the UK's economic recovery is now well established. Mr Sentance believes that the UK economy will grow by 2.6 per cent this year and said that, were he still a member of the MPC, he would vote in favour of rate rises.