According to a recent statement released by Halifax, house prices in the three months to April 2017 were approximately 0.2% lower than in the previous quarter. That means the average house price now stands at £219,649. Although the fall may seem marginal enough, this is actually the first quarterly decline in the UK housing price index since November 2012.
The report follows another statement made by Nationwide last week that revealed house prices were, in fact, growing at a slower annual rate than at any other time during the last four years – a relatively sluggish 2.6% growth per year, to be exact.
Both reports are indicative of a general downward trend emerging in the property market in the first half of 2017: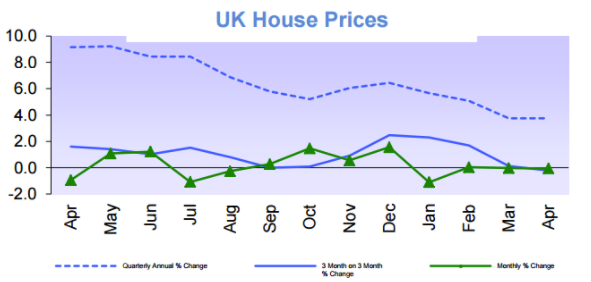 Why are house prices stagnating?
The fall in house prices reflects the current demand for housing, which seems to have been falling in recent months due to affordability.
If you consider that until this point house prices have been consistently inflating each quarter for nearly five years, it seems that now we've finally reached a tipping point – albeit a modest one. Simply put, the cost of reaching the next rung on the property ladder has inflated beyond what most people can afford.
Supply is also a major factor. A recent RICS report revealed that the average stock levels on estate agents' books is at a historic low, which means there are fewer options than ever for people looking to move.
Nevertheless, mortgage rates remain very low which, coupled with a general shortage of supply across the country, is expected to keep the housing market at a steady level over the next quarter.