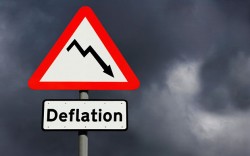 The rate of inflation has turned positive after only one month of negative inflation.
The Consumer Price Index (CPI) measured inflation in the UK at 0.1 per cent in May, up from -0.1 per cent in April.
The rise of 0.2 per cent was largely due to transport costs, particularly air fares, according to the Office for National Statistics (ONS). The drop to negative inflation in April was caused largely by a fall in sea and air fares and was the first time inflation turned negative in 55 years.
Food and fuel prices also rose in May, although they were still less than one year ago.
ONS statistician, Philip Gooding, and senior economist at Hargreaves Lansdown, Ben Brettell, both said that the timing of Easter this year was in part responsible for the negative inflation figures for April. Ben Brettell said that falling air fares around the Easter break pushed CPI inflation down in comparison with twelve months ago. Now that those factors have altered, inflation has returned to its previous levels.
The Consumer Price Index measures the weighted average of prices of a range of consumer services and goods, such as medical care, food and the cost of transport. The goods and services are weighted according to their significance. The CPI is a calculation of the average of all the price variations month on month.
A second method of measuring inflation, the Retail Price Index (RPI), also rose in May, up from 0.9 per cent the previous month to 1 per cent. The RPI includes the cost of housing.
Governor of the Bank of England, Mark Carney, has said that he expects inflation to remain low and that an inflation rate that is close to zero will help UK households by increasing their spending power.