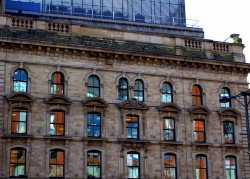 Manchester based lender Evolution Money is proud to announce its expansion into new city centre premises. Securing the deal for the coveted location earlier on this year, the move was inevitable for the loan provider, having out-grown its previous home near the busy Spinningfields area of the city. Evolution Money has now relocated to the newly refurbished and larger 12,000sq ft offices at 9 Portland Street, Manchester.
The Grade II-listed property in the Piccadilly commercial area underwent renovation at the end of 2014, with Evolution Money now taking the entire third floor of the building which has been fully fitted out and designed for the company.
Kerri Turtill, Operations Director at Evolution Money commented: "We are excited about the next phase of development of our growth and we feel the high quality accommodation we have secured at 9 Portland Street will give us the platform to achieve our objectives."
Evolution Money has grown steadily and robustly since being established in 2011, and has developed to be a key player in the second charge sector, recently celebrating its fourth birthday. The business now boasts a strong workforce of over one hundred employees and is set to grow further through its ongoing recruitment strategy and significant investment for training and staff development.
2015 will see the multi-award winning lender grow and build on the previous years' successes with the promotion of the Evolution loan products and lending range through its business partners and directly to customers.